Unveiling the Intricacies of Ottawa's Real Estate Market Through 2023: A Deep Dive You Didn't Know You Needed
Just when you think you've got a handle on Ottawa's housing market, I'm about to take you on a deep dive into the latest, most detailed information out there. Trust me, you'll want to buckle up for this ride. If you have even a hint of interest in real estate—and let's be honest, you wouldn't be here if you didn't—you won't want to skip a word. Ready to dive in?
Below you'll find the Ottawa real estate sales and listings stats for September 2023.
Keep in mind, these numbers give you an average look across all of Ottawa, covering both standalone homes and condos. Individual neighborhoods can differ quite a bit. If you're curious about a particular area, reach out to us for a no-cost evaluation.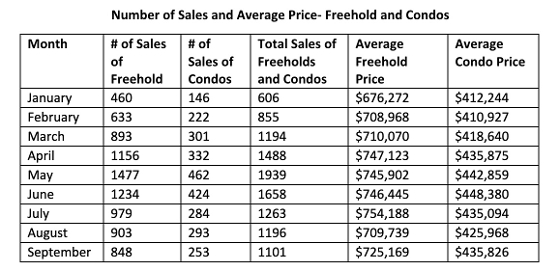 The Link Between Sales, Home Prices, and New Listings: Digging Deeper
Sales and Pricing Trends: The Ottawa real estate market has been on a wild ride in 2023. Both standalone homes (freeholds) and condos hit their high point in May. Freeholds had an eye-popping 1,477 sales at an average price of $745,902. Condos weren't far behind with 462 sales, at an average selling price of $442,859. While things were slow in January, freehold homes have managed to keep their average price above $700,000 since February.
Inventory and Time to Sell: May was a standout month for new listings, with 2,822 new freehold homes hitting the market. June kept the pace with an impressive 2,758 new listings. But here's the twist: even with all these new homes listed, it only took an average of 23 days to sell a freehold in May and June. Condos, however, had a more varied selling time, peaking at 47 days on the market in September.
What's Up with Interest Rates? Hold on tight! The Bank of Canada has been shaking things up. Interest rates jumped from 4.5% in June to 5% in July, and they've stayed there through September. And get ready: there's talk of another increase to 5.25% by the end of October.
All Your Pressing Questions, Answered in Detail
How Are Rising Interest Rates Shaping the Market?
Don't overlook that half-percent rate hike from June to July. While home prices haven't tanked, the longer time condos are sitting on the market in September could be an indirect result of these rate changes.
Why Did Standalone Homes Sell So Fast in May and June Despite Many New Listings?
It's likely that fierce demand outpaced even the abundant supply of new listings. Buyers, possibly worried about future interest rate hikes, were likely eager to seal the deal quickly.
What Should Investors Do Now?
Given the ongoing battle between climbing interest rates and strong market demand, it might be wise to secure a mortgage sooner rather than later. Condos, which have shown more stable pricing, could be a safer bet for those cautious about the sky-high prices of standalone homes.
Is Another Quarter-Percent Rate Hike a Big Deal?
While it may seem small, bumping the rate from 5% to 5.25% could be the tipping point that cools down the market. Fence-sitting buyers may become more cautious, leading to a slower market.
How Stable is Ottawa's Housing Market?
It's strong, but not bulletproof. The fluctuating interest rates, along with varying time-on-market for condos, hint at some underlying instability. Caution is the watchword for now.
So there it is—a thorough look at the complexities of Ottawa's real estate market. I can't wait to hear your take. Are you rethinking your investment strategies? Has this deep-dive altered how you view the market? Let's continue this dialogue and sharpen our game plans to better navigate this ever-changing landscape.
I'm all ears for your thoughts. In fact, I'm keenly awaiting them. The more we understand this dynamic market, the better we can navigate its ups and downs. Your insights are not just welcome; they're essential. Looking forward to your valuable feedback!
Ready to Take Your Real Estate Game to the Next Level?
If you've devoured every word of this in-depth analysis and are itching for more, then you're exactly the kind of real estate enthusiast or investor I'd love to work with. The real estate market waits for no one, and neither should you.
Follow The Blog: Get first-hand, timely updates, market analyses, and investment tips delivered straight to your inbox. Never miss an opportunity to get ahead in Ottawa's ever-evolving real estate market.
Book a Consultation: Have specific questions or scenarios in mind? I'm just a call or an email away. Reserve a time and let's talk strategy, tailored just for you.
Share the Knowledge: Found this information insightful? Share this blog post on your social media and help others navigate this intricate market better, just like you now can! Just click on your preffered platform icon above to share the real estate love!
Whatever your real estate dreams or questions are, there's no time like the present to act on them. So click on those buttons, share your thoughts, or simply pick up the phone. Let's ensure that you're not just keeping up with Ottawa's real estate market, but are ahead of the curve!